Day 1, 2, 3:
This week was filled with doubt, concerns, questions and why didnt I think of that statements. My poor husband had to reassure me more then he wanted too but I some how felt starting this that I should be a certain way meaning not taking shots of just Wyatt plus on top of that I started shooting manual for the first time ever so EVERY single Picture (besides the first two) has been shot completely in manual. EEK... scary but yet at the same time not.
I am proud to say by the end of the week I began to realize that the reason I wanted to do this project was to challenge MYSELF artistically which it did 100%
I found my self finding the light more or putting my camera on the ground and even braving the cold to get some night shots that I always wanted to do. (why I choose to do it in the coldest time of year for Utah bets me but I did it!)
So what I learned this week was to not question myself and also to check to see what my setting are on before I take a picture I had a lot of fails because of that.
Now to get to the TOP 5 photos from the Flickr Group ... (make sure you are adding yours in there or leaving me a link to your blog on the comments because I want to use the pictures of people who WILL be participating every day or as much as they can.)
Anne U
I love the perspective of those cute little pigtails I want a little girl just because of this shot.
Cliff Burns
this drew my attention immediately I love the way it was processed and I love how your looking up at it but not really all at the same time if that makes sense lol... its wonderful.
The Paper Mama
I love the composition on this one makes me want to live there. ;)
Karen at
Barefoot posse
It was hard for me to choose between these too. Very creative. I haven't seen stuff like this in a long time and it was wonderful to see how her mind worked.
Faith
I have been loving all her food shots but this one was so delicate made me want to take a bite. yum...
Thanks for every one who has been participating! I have loved seeing all your photos!
please make sure that you grab your Top 5 button! ;)
Now for the guidelines to linking up: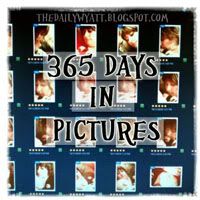 Anyone can join in at any time (even if you miss a day I know things come up. Just make sure that you are CHALLENGING yourself by thinking out side the box doing things you've never done before.)
Put all your Weeks photos into one post. just in case we didn't get around to seeing all of them that week.
Please use your own photos and they need to be NEW photos each week hence the 365 DAYS in pictures...
When linking up, only link to your "365 day in pictures" blog post, not your main blog URL. and link back to me by using the button located at the bottom of my blog.
Please try to visit other peoples blogs and give them some comment love, because we all know that we love comments plus the whole point of doing this challenge is to learn from each other.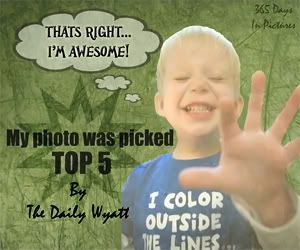 I will be picking 5 photos each week to highlight so make sure that you are trying to take what you think are amazing photos and add them into the Flickr group so I have all week to look over them. Then at the end of the month I will choose 1 winner for all the top 5 entries.
*linking up to Naptime momtog and Click it up a notch


Hope to see you all next week!


Tweet