Hello again! I was so impressed with the amount of people that join last Saturday! YAY! and I am also glad to see all the new people who joined the
Flickr Group
. Remember I will only be picking the TOP 5 from there it just easier for me to see/remember all of the photos. so please please join!!!
I know that I have been a little absent on here and I want to thank you for all your comments it means a lot to me. I love hearing the little "Bing" of my phone each time a new one rolls in. It makes working long days bearable. (I am still trying to get to all of you so please be patient with me.)
anyhow...
My week in photos.
8-9/365
10/365
11/365
13/365
And today 14/365 (I seem to like ending the week with Wyatt's lips. giggle. oh well.)
and now the TOP 5 dun dun duh....
Anne U
I love this red barn. Right when I saw it, it took my breath away! its STUNNING!
Tara
Okay I just could resist all of Tara's photos. first of all I looooooove the booty picture... what a wonderful shot and then when she had the baby OMG! WHAT A LITTLE HANDSOME BABY! I just couldn't resist showing him off. CONGRATS TARA!!
Angela
I love the depth of field and how simple but yet gorgeous this shot it is.
As is proper
Okay this is so pretty and I love that it is SOOC which makes it a WOW for me! just stunning.
Karolina
First of all Wyatt Freaked out when he saw this... he talked about it all day. Second I love how clean and clear and sharp it is! brings the kid out in me.
Congrats guys! Make sure you all grab your TOP 5 button!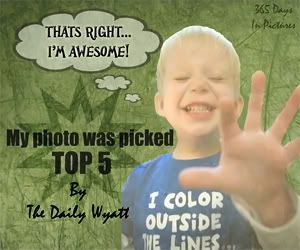 Here are the guidelines please make sure you read/follow them.
Anyone can join in at any time.
Link only to your flickr or blog post not to your main URL
please grab my button below and link back to my blog so others can find the blog hop.
Try and Visit each other and give some comment love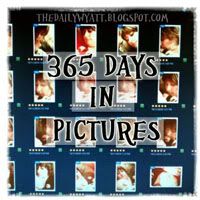 Tweet