YAY! Its once again time to share your week in pictures! I just realized this week that I forgot to post one of my pictures from last week. Lame.
So I will be sharing 8 pictures this week.
Also I am glad to say that next week should slow down for me at work which will give me more time to blog and take better pictures well more creative ones plus I can visit blogs!
Thank goodness. I need it.I hurt in places I didn't know I had. Who knew that the shoe department was so involved. ugh.
Anyways...
Here's my Week:
21/365
This is the forgot picture from last week. opps.
22/365
This is the music room at the Tree house Museum for children.
23/365
Wyatt and Tegan at grandmas.
24/365
We went bowling. Wyatt won how sad is that or I mean GREAT that is... cough cough.
25/365
Awe Spring.
26/365
Dang it! Winter AGAIN!
27/365
Buddy.
28/365
I got this idea from my friend Sherri hers was a lot better then mine but I took this with 10 minutes until I had to go to work so... yeah. Can you even tell that this is a fridge?
I will be revisiting this when I get more time. for sure.
And for the Top 5 winners this week in no practical order...
I love this photo! The colors are amazing and I love how intriguing it is. Its stunning.
LOoooove all of her photos! I am so glad she joined the Flickr Group. This one stood out to me the most because I could feel the moment of daddy coming home. Just Wonderful. But check out more of her photos they are AMAZING! I wanted to add them all. seriously. a m a z i n g.
WOOOOW! When I saw this I was soo impressed. I love how clear it is and the texture adds so much to it. this is a beautiful photo WOW!
I love the colors and how it makes you smile instantly. Great shot!
I love how simple this photo is. its just stunning.
Congrats guys!
Make sure you all grab your TOP 5 button!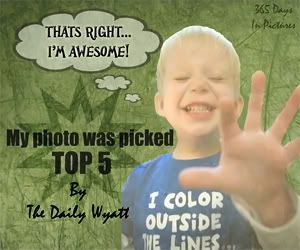 Here are the guidelines please make sure you read/follow them.
Anyone can join in at any time or start the 365 any time.

Link only to your flickr or blog post not to your main URL please...

Pretty please grab my button below and link back to my blog so others can find the blog hop.
Tweet