Can I just say that I realized that last week I really only missed one day... I totally forgot about my
Scones
picture. ugh... oh well.
This week has been off and on and I haven't had time until late at night (1am) to upload and edit my photos... It will be interesting to see what I have.
but first before that...
March is over...
which means its time once again to vote for the best photo of the month...
Are you ready?!?!
I Narrowed it down for you.
Now all you need to do is pick a winner...
I LOVE THE LIGHT:
Now I Know:
My (BOYS)terous Life:
Okay really I just picked some random photos off my camera card real quick and did a super fast edit on them.
I don't feel like these are my best photos but it will have to do. Next week I swear I will be tons better about uploading them editing them and taking them. ugh... I need to put more thought into my photos I'm really in this not caring slump and I need to shake my self out of it.
I want to learn something new this week! If you have learned something new let me know I would love to get some great ideas going... I need inspration!!
92: This is a tree in the front of our apartment. 93: Wyatt helping me with dishes 94: Wyatt playing outside in the sun. 95: What my house looks like everyday 96: On a playdate with Sophia 97: feathers in my car... once again.
------------------------------------------------------------------------------------------------------
Now for the Top 5 this week!
*Remember if you want your to be picked they must be in our
Flickr Group
.
Through the photographers eyes:
This is just stunning... totally inspiring too. I think once its warm here I must try to capture a shot like this.
Anne:
I really love the depth of field here. it made this turn out really cool.
Kaaroo:
Awe bubbles... and wow did they turn out cool! I love how crisp they are. Its a wonderful photo.
Betsy Blue:
Can you say creative or um... ocd... either way its AWESOME!
Kianve:
I am totally digging the texture on this... makes it look like some twisted melt or something but its a grape vine. awesome!
Congrats guys grab your button below.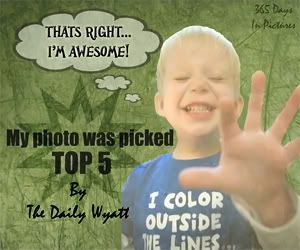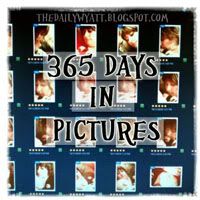 Also linking too:
Hey if you didnt know I am totally being a twitter phen and if you have one let me know I would love to follow you plus you all should follow me too! just sayin'
Linky open until Tuesday
Tweet