You were born Wyatt Alexander Christensen on October 15, 2008 at 4:07am by an emergency c-section weighing 5 lbs. 12 ounces 19 inches long. It was a day that I will always remember because it was the first day I became a mother.
The morning you were born, I sat watching you, breath in and breath out while my arms wrap around your small body and I chuckled at the fact that you had the long blonde hair when I swore I would have a dark haired wild Indian baby. But nope, here you were a tiny, small, mini, itsy bitsy, wee little boy and you were mine.
For the next few days I would examine you, touch your little fingers, kiss your forehead and b r e a t h you in. My mind didn't know what life was like before you.
Days went by and I would learn what you liked and what you didn't. There would be moments that I would run to check in on you, sleeping in your crib just to make sure you were breathing. I was always relieved when you were but my heart never stops that worry. You are far too important, too valuable to not be in my life anymore and I couldn't bare to not have you in it.
As the months came and went I watched in joy at the new things you were discovering. We had firsts after firsts and each time I felt so much pride for you. You were and still are so smart and I love watching and learning from you.
Then it become years, you learned to talk saying mommy first then daddy and then you walked. W a l k e d… it was mesmerizing. The way you took those steps in such courage and the amount of bravery you had to continue. Little did you know that it was a moment to be proud of.
You were only one for a brief moment and then bam, you turned two and became a chatter box, a funny shy boy, who loved to dance, to create, to explore, to demand our attention to bring life… LIFE more and more LIFE into our home.
Here I was raising this smart boy that did nothing but teach me more what life should be like, what it will be like and what it was like. I have grown as a person because of you. Do you know that?
Three years have gone by to fast and I know it wont slow down at any time and I don't mind. I want to be here to ride that ride of life with you because you are three now and with that know my son, KNOW that so far you are heading in the right direction and I cant wait to see were you will end up.
I love you more then my heart could possibly carry.
Okay Wyatt?
So don't you ever forget that.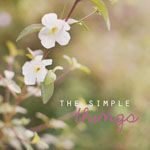 Tweet