Oh this might look cute and innocent now but really this is how Wyatt throws a tantrum... by ignoring you. Which ironically is what I prefer. lol...
This is him not looking at me because he knows that if he does he will be in timeout.
He is throwing this Tantrum because I caught him throwing his DVD's all over his room. (he just learned on his own how to get a DVD out and put it into the Xbox to watch it. but he wont watch the entire movie he will take out the DVD and put a new one in over and over and over...)
He is pant-less because right before I caught him destroying his room he peed all over the floor. I swear on purpose.
*on a side note. here are the guidelines for 356 days in pictures blog hop that I will be hosting each Saturday starting the 8th.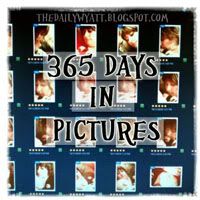 Put all your Weeks photos into one post. just in case we didn't get around to seeing all of them that week.
Please use your own photos and they need to be NEW photos each week hence the 365 DAYS in pictures...
When linking up, only link to your "365 day in pictures" blog post, not your main blog URL. and link back to me by using the button on the right side of my blog.
Please try to visit other peoples blogs and give them some comment love, because we all know that we love comments plus the whole point of doing this challenge is to learn from each other.
I will be picking 5 photos each week to highlight so make sure that you are trying to take what you think are amazing photos and add them into the Flickr Account I made (so I have all week to look over them.)
http://www.flickr.com/groups/365daysinpictures/
I cant wait to see everyone's photos! its going to be a blast!!
See you Saturday!
Tweet