and the March winner is....
Now I know!
CONGRATS!!
What a perfect photo for the Easter holiday coming up!
Grab your button below.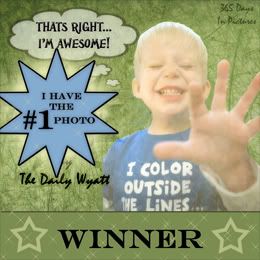 The thing about being a full time working mother (plus having a photo gig on the side) is that I found out in the last couple of weeks how I am NOT a super mom. :(
Only if I was right...
I got out a took pictures twice this week... the other days I was working long hours (corporate came and had to certify my shoe department eeek... I passed though!) plus I was setting up my photography site!
(Sarah @ naptime momtog was doing it at the same time! Thanks for all the help!
and Twitter
your freakin' amazing!)
Now its not 100% set up yet. I am still adding and tweaking things here and there but its work a lot of work to make it the way I want which takes more time away from me.
plus I have to raise that child of mine and the husband well he tends to not take care of him self well so I also have to help him in that department.
Sooooo With all of my excuses out of the way here are the only few (okay a ton of) pictures I took this week...
98:
At least I take a lot on the days I do take pictures right?
------------------------------------------------------------------------------------------------------
Now for the Top 5 this week...
Inspire me:
Okay I can have it be warm enough here so we can go swimming! *jealous.
I love this because of how excited she is but also how crisp bright and clear! its a great shot!
Betsy Blue:
How awesome is that! I love that there is so much detail in their shadows! its just wonderful!
Now I know:
You see why she won last month just look at her photos! This is an amazing shot! I love that crispness it has and all the details! just stunning!
Daniele Valois:
I love the sorta fish eye look to it and also the sun flare is amazing plus the colors! great shot!
My (BOYS)terious life:
Its simple its stunning its perfect.
Good Job guys!
Grab your button below: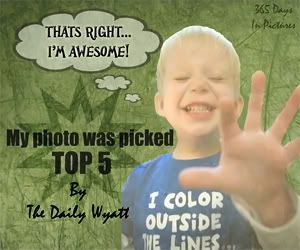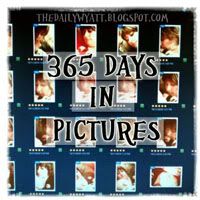 Also linking too:
Tweet