Inspire Happiness Daily Project
Welcome to our 365 Project! Everyone joining us from last week… Welcome back! And, if you're here for the first time, we hope you join in the fun!
We'd like to challenge you to take a photo a day and every week link up and share your project with us and with each other. It's quite the task but a lot of fun and at the end of the day, we're all learning so much from each other.
Don't have a 365? Don't worry! If you've had a great day or a great week and you want to share with us, please join in the fun. Although many of us are doing our own 365, our goal here is to INSPIRE HAPPINESS DAILY. If that means you join us sporadically, we're okay with that. We're all here to encourage each other and learn, too.
Contemplating a 365? Why not start now; it's a motivating way to practice and a great skill-building tool…. *warning: it can become addictive…
Click
HERE
for the details of the challenge before linking up…
Top Five
Betsy Blue
What a wonderful photo; one that will definitely be cherished forever. I especially love that it is in black and white; adds more to the nostalgic feeling!
Tara on the Wander
I love how the overall photo looks desaturated so the color blue pops out even more. I didn't even know artichokes have such a wonderful bloom!
Through a Photographer's Eyes
Great detail! Really thinking about turning on the sprinklers now with weekend

Blue Bubble
Awesome bokeh! Very clever to use the camera as a swing

A Sherwood Photography
I love the softness and composition. Beautiful macro!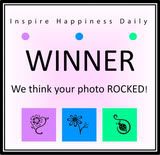 And now it's your turn!
We hope you had a great week and can't wait to see what happiness you inspired in your daily lives.
Join in at anytime by adding our button to your blog post and linking up.
Tweet