Oh my its Texture Thursday time!
Everyone joining me from last week... Welcome back! And, if you're here for the first time, I hope you totally join in on the fun! The whole point of Texture Thursday is to look at photography from a different point of view. Meaning that you can either enter a photo that has texture already in it or add some of your own. If your not quite sure what I mean I give examples
HERE
.
So my little sister got engaged over this last week so I dug up some of the photos I took of her and her soon to be husband for practice way back in January. I of course told her that I must be the photog for her wedding, engagements and bridals but when I said this to her on the phone little did I know that they would decide to get married in September THIS September! eek! I cancelled a few things and moved around stuff so I would be able to do it but man is it coming up quick!
This one is a favorite of mine. Just because it was freezing, cars kept stopping (which ruined a lot of the shots) and honking at us but it was fun and I liked how it turned out. I did add some textures to brighten it up.
These are also some of my favorites…
I am totally happy for them and wish them the best! congrats guys!
---------------------------------------------------------------------------------------------------------------------------------------------------------
So the "like" feature didn't really work but a few photos did get a 1 or so "likes" before it stopped working so… I will highlight each of those and if it happens this week just tell me in the comments which one you guys like then that way we can have a clear winner. okey dokey?
First one is:
Live.Love.Travel
Ha! what a great photo! I love the personality of it plus how crisp it is!
The next one is:
Veronica Victoria Chronicles
I love that we were on the same page about making it look like a drawing or painting! Great photo!
The next is…
Blue Skies Photography
Thanks for sharing your tips on how to make it look like this! I adore this kitty! reminds me of my little checkers cat I had. What a great photo!
Last but not least…
The Paper Mama
You never can go wrong with flower shots and I love that you added your adorable little girl to the photo too! its just lovely!
Now its your turn lets see what Textures you have this week!
Don't forget the guidelines for the linky:
Link only to your post dedicated to texture Thursday not your main URL.

anyone can join in at anytime.

Grab my button so others can find the linky and join in the fun too!

try to visit others blogs and give some comment love! Because we all love comments. ;)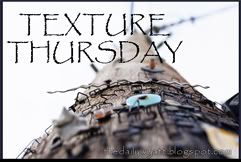 Tweet