HEY YA 'All ITS
TEXTURE THURSDAY
! Everyone joining me from last week... Welcome back! And, if you're here for the first time, I hope you totally join in on the fun! The whole point of Texture Thursday is to look at photography from a different point of view. Meaning that you can either enter a photo that has texture already in it or add some of your own. If your not quite sure what I mean I give examples
HERE
.
Well as you can tell from
Yesterday's Post
I have a TON of photos to edit/post and a bunch of stories to go along with them which hopefully I will be able to get around too soon. Thanks for being patient with me…
Any who, my texture this week is
both
. I added a texture to this engagement photo I did for my sister to give it warmth and to burn the edges but I also had the natural texture of the grass, tree and clouds which I think are wonderful. I am seriously digging the photos I got with her and her soon to be. She's even allowing to make the invites which I am pretty excited about!
Linking up to:
and now for the photo from last week with the most "LIKES" is…
Great photo I adore the texture of the sand and the frame!
Guess what!?!?!
we had a tie!!!
soooooo…. with out further adieu the other winner is….
I love his cute little hands on the window plus the little poem is precious.
OOOOOOOOOOOOOOOOOOOOOOOOOOOOOOOOOOOOOOOOOOOOOOOOOOOOOOOOOOOOOOOOOOOOOO
Now its your turn lets see what Textures you have this week!
Don't forget the guidelines for the linky:
Link only to your post dedicated to texture Thursday not your main URL.

anyone can join in at anytime.

Grab my button so others can find the linky and join in the fun too!

try to visit others blogs and give some comment love! Because we all love comments. ;)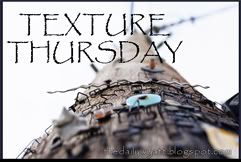 Tweet