Hey Its Texture Thursday or textureish Wednesday time!!
Everyone joining me from last week... Welcome back! And, if you're here for the first time, I hope you totally join in on the fun! The whole point of Texture Thursday is to look at photography from a different point of view. Meaning that you can either enter a photo that has texture already in it or add some of your own. If your not quite sure what I mean I give examples HERE.
--------------------------------------------------------------------------------------------------------------------------------
Tomorrow I will be leaving for my Disneyland Vacation!!! Whoop Whoop! So I will not be be able to show who won the most likes because I give you guys the end of Wednesday to vote and I am posting this early. But do not fret once I get back I will do a whoooole blog post just dedicated to ALL that was voted on and then show who won! okay? ok. (Next weeks will be like this too because I will not be back so I am scheduling that post.)
Anyway, why my blog has been so quite this week is because my little sister got married and I shot her wedding then I got some exciting news that I cant share yet but will soon so I was all wrapped up in that and man do I still have to pack for my vacation…
ugh.
but none the less here is my photo for this week. The texture I am using is all natural. (like all the vines in the background and the texture of her dress.)
~~~~~~~~~~~~~~~~~~~~~~~~~~~~~~~~~~
Now its your turn lets see what Textures you have this week!
~~~~~~~~~~~~~~~~~~~~~~~~~~~~~~~~~~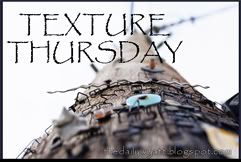 also linked too:
Don't forget the guidelines for the linky:
Link only to your post dedicated to texture Thursday not your main URL.

anyone can join in at anytime.

Grab my button so others can find the linky and join in the fun too!

try to visit others blogs and give some comment love! Because we all love comments. ;)
Don't forget to come back and like your favorite photo!
Tweet