Inspire Happiness Daily Project
Welcome to our 365 Project! Everyone joining us from last week... Welcome back! And, if you're here for the first time, we hope you join in the fun!
We'd like to challenge you to take a photo a day and every week link up and share your project with us and with each other. It's quite the task but a lot of fun and at the end of the day, we're all learning so much from each other. Don't have a 365? Don't worry! If you've had a great day or a great week and you want to share with us, please join in the fun. Although many of us are doing our own 365, our goal here is to INSPIRE HAPPINESS DAILY. If that means you join us sporadically, we're okay with that. We're all here to encourage each other and learn, too.
Contemplating a 365? Why not start now; it's a motivating way to practice and a great skill-building tool.... *warning: it can become addictive :-)
Here are some of the details (you may already know):
• Anyone can join at anytime and don't worry about missing a week or a day, we know things come up. Just make sure you are CHALLENGING yourself - we're hoping to learn from and be inspired by this project.
• Put all your weeks' photos into one blog post. You can choose to use a collage as an easy way to organize your week.
• Photos MUST be your own and they MUST have been taken for that week's challenge, hence the 365 Days in Pictures.
• Linky will be posted every Saturday for your photos taken that week.
• Link only to your blog POST, not to your main blog url.
• Include our project button in your entry. Our project button will link back to our blogs.
• Show some love and try and visit other entries. We all love comments and it's a great way to encourage each other.
Top 5 this week:
Shannon A.
I love these everyday life shots I also enjoy how soft this photo is. just lovely.
My (Boy)sterious life
OMG, Look at that! Now that is what I call a hamburger! Love the processing on this photo gives it a great feel!
Betsy Blue
Well hello big bubble! How fun! and how awesome that you capture this!
Through a photographers eyes
Love the detail, and how crisp it is. stunning.
Liza Lit
This looks like it belongs in a nature magazine. What a great shot!
Congratulations Top 5! Here's a button just for you :) Can't wait to see what you have this week...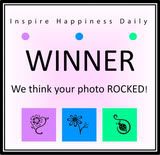 And now it's your turn!
We hope you had a great week and can't wait to see what happiness you inspired in your daily lives.
Join in at anytime by adding our button to your blog post and linking up.
Tweet